Oscar-nominated actor and San Antonio resident Jackie Earle Haley ("Little Children") wants his new drama, "The Birth of a Nation," to make an emotional impact on audiences and show them how much more healing the United States needs to do as a country. In the film, Haley, 55, plays Raymond Cobb, a member of a slave patrol who enforced discipline on black slaves in the antebellum South. "The Birth of a Nation" tells the story of Nat Turner (Nate Parker), a slave who led a rebellion in Virginia in 1831.
What did you see in the script and your role that made you want be a part of this project?
[Director/writer/producer/star] Nate [Parker] sent over the script and I thought it was full of beauty and horror. It contained a lot of humanity but also incredible inhumanness. Racism is a subject I'm really interested in. I feel we live in a country where our Constitution says we're all created equal, but we're not living up to that promise. The character I play is definitely one of the most unpleasant aspects in telling the story. It's a very emotional and difficult subject to deal with.
Do you think a film like this speaks to some of the injustices we are witnessing today in any regard?
I think we can all look back 180 years and recognize the inhumanity that is part of our history. When we look back to that time and see with such clarity how wrong it was to oppress a certain group of people, I would like to think that could shed some light in our hearts in this day and age. More of us need to recognize the oppression that is taking place today in our poor neighborhoods like in Ferguson. Things like the war on drugs and privatized prisons have created such systemic racism. There is a lot of crime in these communities, but that's a symptom. In order to cure that symptom, we need to look at the real problem, which is the lack of opportunity.
With the record rate black men are incarcerated in the U.S. prison system today, do you feel this is the new form of slavery in this country?
Absolutely. Look at some of the other countries like Switzerland and Norway where it's all about rehabilitation. Our prison system is cruel. The Constitution says no cruel or unusual punishment, but all we've managed to do is make cruel usual. It's absolutely horrible we allow all of this to take place.
Did you worry playing this type of antagonist—someone with no redeeming qualities—would forever attach you to such a hateful character? I mean, you did earn an Oscar nomination for your role as a registered sex offender in "Little Children," but at least that character loved his mother.
Well, I play a lot of bad guys. But bad guys don't know they're bad guys. In "The Birth of a Nation," I was playing a bad guy who felt he was justified in everything he was doing. He is a product of that time and of that thought process. [In "Lincoln"], I played the vice president of the Confederacy. He was convinced the white man was superior and the black man was here to be subservient.
How do you view Nat Turner's legacy?
I think [the revolt] was heroic. It ended horribly for everyone involved, but the bottom line is that he was fighting for humanity and for people everywhere who were oppressed. I think it was an incredibly brave thing to do. He decided he was not going to live like that anymore and did something about it.
I've always been the type of person who can separate the art from the artist. If Mel Gibson or Woody Allen or Roman Polanski make a good film, I'm going to say it. With the controversy surrounding Nate over the last few weeks (a 1999 rape allegation recently resurfaced), do you think it's fair if people decide they don't want to support the film?
I think people should go check out the film. I think people should also recognize the controversy has been made into a press frenzy. The timing is really questionable, so I think people should think about that as well. I would certainly hope that people go see this film.
Your next project is the highly-anticipated film "The Dark Tower," adapted from the Stephen King series. What can we expect?
I think these guys are doing a pretty good adaptation of the books. I haven't read all of them, but I have definitely poked around. I really like what they're doing with it visually. I think it's going to be pretty cool. I'm looking forward to seeing it myself.
Starring: Joel Kinnaman, Gary Oldman, Michael Keaton
Directed by: Jose Padilha ("Elite Squad")
Written by: Joshua Zetumer (debut)
Question: is it fair to judge a remake/reboot by how it compares to the original film? After all, with the near-instant availability of pretty much every movie ever made via streaming or download, its easier than ever to to tick off essential film boxes on your personal movie watching checklist. Remakes don't exist in a vacuum, especially remakes of beloved modern classics. If we're being honest, remakes are at least partly banking on the movie-going public having at least a passing knowledge of the original film.
Answer: yeah, absolutely. And when it comes to the new remake of "RoboCop," the comparison (probably not surprisingly) isn't favorable.
Like the gory 1987 sci-fi satire, the modern "RoboCop" centers on Detroit cop Alex Murphy (Joel Kinnaman). As an undercover cop, Murphy and his partner Lewis (Michael K. Williams) are made by a drug lord (Patrick Garrow) they've been investigating. After a shootout in a restaurant leaves Lewis hospitalized, the drug lord's goons go after Murphy by detonating a car bomb in front of his home leaving Murphy comatose and paralyzed.
Meanwhile OmniCorp, a giant corporation responsible for producing robotic drones that keep the peace in war-torn Middle Eastern countries, desperately desires to bring its killbots to U.S. soil. Federal law prohibits robots from conducting law enforcement, however, due to the fact that the 'bots aren't capable of human decision-making, a law that is a frequent target of rage for outspoken talk show host Pat Novak (Samuel L. Jackson). The promise of raking in billions of dollars in the American market leads CEO Raymond Sellars (Michael Keaton) to a revelation: put a man inside a machine. After convincing Murphy's wife (Abbie Cornish) the only way to save her dying husband is to hand him over to OmniCorp's Dr. Norton (Gary Oldman), RoboCop is born.
Whereas director Paul Verhoeven's late-'80s "RoboCop" relished in satirizing hyper violence and corporate greed, Brazilian director Jose Padihla's PG-13 "RoboCop" sets its sights on the ethical dilemma of drone warfare, only with a muddier, more somber tone. The crux of the too-long subplot about the repeal of legislation banning robot cops – what is this, "The Phantom Menace?"- deals with the notion that a man should be the one pulling the trigger seems to ignore the fact that, well, men pull the triggers on robot drone strikes today. The movie also takes too long to get to the RoboCopping, dispensing buckets of backstory that ultimately doesn't pay off, taking nearly a full hour to show off Murphy's new cybernetic construction we all came to see.
Speaking of Murphy, the remake lets him keep his humanity from his initial boot up as RoboCop, a decision that significantly blunts the character's arc. Instead of memory wipes, this Alex Murphy is less of a soulless automaton and instead just gets hyper-focused and emotionless when his dopamine levels are dialed down.
And, in what is perhaps the film's worst offense, Samuel L. Jackson's gets to utter his trademark phrase—motherfucker—only to have it bleeped. Which, when you think about it, sums up the mistakes of a straight-faced, PG-13 remake of "RoboCop" better than anything else.
The first time Academy Award-nominated actor and San Antonio resident Jackie Earle Haley heard that Warner Bros. Pictures was interested in remaking the 1984 classic horror film "A Nightmare on Elm Street" he was surprised to learn his name was already swirling around the Hollywood rumor mill.
"I saw that people were suggesting me for the role of Freddy Krueger on the Internet," Haley, 48, told me referring to the main "Elm Street" antagonist, a deformed serial killer with a razor sharp glove who preys on his teenage victims in their dreams.
"I was immediately fascinated by the idea. [The studio] wanted to start all over with [the franchise] and introduce it to a whole new generation."
While actor Robert Englund had been synonymous with the name Freddy Krueger for 25 years, a total re-imagining of the series included a change in lead actors. Haley, who was nominated for an Oscar for his role in 2006's "Little Children," jumped at the opportunity to be the actor who would replace him.
"Freddy is such an incredibly iconic character, so it was an honor to play him," said Haley, who owns his own production company, JEH Productions, Inc., in San Antonio.
"It was also very daunting because one guy has played this character for decades. When you think of Freddy Krueger you think of [Englund]."
To play Krueger, Haley said the process was less about trying to make him different from Englund's portrayal and more about returning to what made the character so terrifying in the original film. As the franchise continued over the years with Englund at the helm (the last film was 2003's "Freddy vs. Jason"), screenwriters continued to add more sarcastic wit to Krueger's personality.
"The very first film was a little bit darker in tone," Haley said. "I think it started getting campier and more comedic and sardonic as it went along. We wanted to get it back to the original."
With help from music video director and first-time filmmaker Samuel Bayer, who had worked with such bands as Marilyn Manson, the Smashing Pumpkins, Metallica and Green Day, Haley started researching the traits that would make Krueger more hellish than humorous for the latest film.
"I started reading this book about serial killers that Samuel asked me to look at to figure out who Freddy is," Haley said. "I realized I was going to play a mythical boogieman. That's what I needed to embrace."
The book allowed Haley to see that Krueger was different from the real-life murderers he was reading about. While it was important for him to capture some of these realistic qualities, Haley considered Krueger more of a character developed in the minds of creative storytellers.
"I still wanted to definitely look at his human side and do the proper work there, but Freddy Krueger is like the main character in a campfire story," Haley said. "I really think the horror genre is an extension of people sitting around a campfire out in the woods late at night trying to scare each other."
Nevertheless, Haley feels Krueger is someone who represents something different to everyone who has witnessed his capabilities as a fictitious killer who haunts his victims when they least expect it.
"One of the scariest most vulnerable times is when you lie down in bed at night and fall asleep," Haley said. "That is what has made Freddy part of the horror culture all these years. He's the monster that we almost sort of enjoy being scared by."
There's a really good chance I'll get to interview San Antonio's own Academy Award-nominated actor Jackie Earle Haley for his role as the new Freddy Krueger in the upcoming remake of "A Nightmare on Elm Street."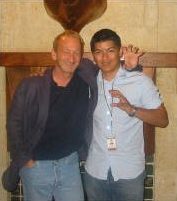 In 2003, I got to interview original Freddy Krueger Robert Englund (see Robert and I to the right) so talking with Jackie should be a lot of fun. The last time I interviewed Jackie was back in 2006 for his Oscar-nominated role in "Little Children." If you haven't seen that movie, put it on your Netflix queue. It was No. 3 on my Top Ten list for 2006.
So, anyone have a question they'd like to ask one of the most famous psychopathic serial killer in movie history? Send in your questions and I'll pick a handful of the best and include them in my interview.
Also, if I end up picking your question, I'll send you a ticket to the San Antonio pre-screening of the movie (only if CineSnob.net is named as a sponsor). "A Nightmare on Elm Street" opens in theaters April 30.
Starring: Leonardo DiCaprio, Mark Ruffalo, Ben Kingsley
Directed by: Martin Scorsese ("The Departed")
Written by: Laeta Kalogridis ("Alexander")
There are times during Academy Award-winning director Martin Scorsese's ("The Departed") thriller "Shutter Island" where you can feel the anxiety of the picture frothing up inside your gut. Once Robbie Robertson's disturbing Hitchcockian score and Robert Richardson's misery-stricken cinematography merge to create the ominous tone during the opening scenes, it is obvious Scorsese plans to keep you as uneasy as he possibly can for as long as he can.
There is only so much, however, that a masterful director like Scorsese and a few members of his technical crew can do before its foundation collapses from under them. Adapted from the Dennis Lehane ("Mystic River") novel of the same name, screenwriter Laeta Kalogridis ("Alexander") rides Scorsese's coattail as far as she can before the work itself shrinks back into predictable dark corners. The twist and turns might be sharp, but that doesn't make them any less dull.
Collaborating for the fourth time with Scorsese, Academy Award nominee Leonardo DiCaprio ("The Aviator") plays Teddy Daniels, a U.S. marshal investigating the disappearance of Rachel Solando, a murderess from a mental hospital known to house the most criminally insane patients. Teddy's new partner Chuck (Mark Ruffalo) joins him on his tour through the facilities where he plans to interrogate every one who knows Rachel, including psychiatrists Dr. Cawley (Sir Ben Kingsley) and Dr. Naehring (Max von Sydow) who aren't exactly cooperating with Teddy's methods of inquiry.
Teddy, however, has more to worry about than unsupportive head doctors who seem to be hiding the truth. Nightmares of his dead wife (Michelle Williams) and his time in the war begin to haunt him as he and Chuck end up stranded on the island during a vicious thunderstorm. They are the type of hallucinations that would easily be dismissed if they were in any other horror-type movie, but since Scorsese is directing the scenes we're led to believe that they should be considered more artistic than overly-stylistic. However you want to identify them, they have no bearing on any emotional aspect of the story, which is unfortunate since they are revisited numerous times.
Most of the emotional pull comes from DiCaprio's performance itself. Walking a fine line between awareness and madness, his on-the-spot portrayal of a man uncertain of his own mental welfare as he caves in on himself is frightening. Still, the suspense refuses to take another step forward once the pieces start fitting together more obviously. Once that occurs, it is only a matter of waiting out the rest of the unsubstantial plot points in "Shutter Island." By then, all the dread has subsided and that ball of nerves that was floundering around inside you earlier feels more like bad indigestion.
Starring: Billy Crudup, Matthew Goode, Jackie Earle Haley
Directed by: Zach Snyder ("300")
Written by: David Hayter ("X-Men") and Alex Tse (debut)
There's no denying the visual artistry and intensity of Zach Snyder's film adaptation of the graphic novel "Watchmen." While Snyder, who was recently named by Entertainment Weekly as one of the top 25 directors working today (surprisingly he landed at No. 16 ahead of auteurs like Pedro Almodóvar and Paul Thomas Anderson), has delivered one of the better horror remakes with 2004's "Dawn of the Dead" and the highly-stylized war epic "300," it hasn't been until now that he's had a such a storied narrative to work from.
Based on the graphic novel by Dave Gibbons and Alan Moore, "Watchmen," a piece some considered un-adaptable for the big screen, takes the idea of comic-book mythology to another level by transporting our team of heroes into an alternate universe.
The story begins with the murder of a retired superhero. The Comedian (Jeffrey Dean Morgan) gets a visit from a stranger one late evening and is tossed out of his apartment window. The crime causes other superheroes, who were once linked to him, to worry that there might be someone out there "picking off costumed heroes" one by one.
Through vivid flashbacks of these superheroes during their early years, we get a sense of where all these characters are coming from, what they have lived through, and how life as a vigilante has affected them emotionally. While many of these flashbacks work well, there are instances when too much reminiscing may have you wondering where Snyder and his screenwriters are actually on the timeline.
The superheroes themselves are the most memorable of the film's nearly three-hour runtime, which doesn't feel too long until the final 20 or so minutes when the story unfortunately transforms into an everyday end-of-the-world comic book yarn set on the backdrop of nuclear war. Overall, however, it's not your typical genre-film.
Academy Award-nominated actor Jackie Earle Haley ("Little Children") is spot-on as the masked Rorschach, and while actor Billy Crudup's role as Dr. Manhattan is done mostly via special effects, his apathetic and sometimes poetic personality is evident through his glowing blue skin. Other Watchmen include Nite Owl (Patrick Wilson), Silk Spectre (Malin Akerman) whose mother (Carla Gugino) was part of the Watchmen herself and had a regrettable history with the Comedian, and the world's smartest man, Ozymandias (Matthew Goode).
Rich in all its technical aspects, "Watchmen" is at its best when it breaks all the derivative superhero-movie rules and stands on its own. Through its sometimes shocking graphic nature and attention to detail, it's a well-polished example of what fun mainstream comic-book films should be about.